Jeff and Carol Fegan Find Ways to Support their Frostburg Family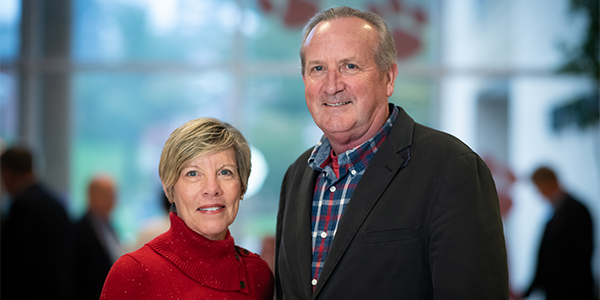 The emotional tie that Jeff '76 and Carol Fegan '76 have for Frostburg State runs deep. The two met on campus, married before their senior years and, even though life has taken them from Western Maryland, always find their way back to their Frostburg "home."
That gratitude for Frostburg has compelled Jeff and Carol to give back to their alma mater in many ways. They created the Jeffrey P. and Carol A. Fegan Presidential Merit Scholarship for full-time students with exceptional academic standing and demonstrated financial need. Recently, Carol established The A. Margaret and James C. Sunderland Nursing Scholarship in honor of her mother, a nurse, and father, who served in the Army and worked at the Social Security office. The scholarship assists FSU students seeking a nursing degree.
When Carol came to Frostburg in the early 1970s, she had already lost her father to a sudden heart attack. During her freshman year, her mother passed away from cancer. When she met Jeff, Carol unwittingly started to build her new family.
Jeff was a member of Sigma Tau Gamma and Gamma Theta Upsilon the geography honor society and Carol took part in the service sorority, Delta Alpha Iota. Both played intramural sports. The two met in English class and Carol took the initiative to ask Jeff out. She ran over to him in the dining hall to invite him to a party and accidentally knocked a strawberry ice cream cone into his lap. It was a cold start that gave way to a warm 50-year relationship.
Jeff, a geography major at Frostburg, retired in 2013 after a career as the CEO of Dallas/Fort Worth Airport and Carol worked as a nutritionist. They have two daughters who are now grown. The couple now splits their time between their home in Texas and a house they rent back "home" in Frostburg.
Carol, who struggled to make ends meet to pay for her tuition at Frostburg, knows the hardship facing some students. It has inspired the couple to make their planned gift to FSU.
"Despite whatever happened to me personally, Frostburg really was my salvation. It gave me camaraderie, stability, friendship and support," Carol said.
Carol and Jeff are happy to pass on their support and their love of Frostburg to a new generation of students, as they cherish their own sweet memories - strawberry ice cream and all.
"Frostburg ended up being a very magical time in our lives," Carol added.
To make your own planned gift to Frostburg State University contact Liz Nelson, Planned Giving officer, at [email protected] or 301-687-3163.