Scholarship Supports Friends of the Four-Legged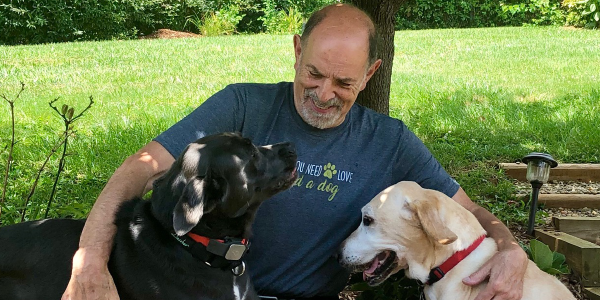 Whenever Elliot Weiner '65 moves to a new city, he knows how to make new friends — of the four-legged kind.
"The first thing I do is go to the local Humane Society," said Weiner, who is now retired after an impressive career as a psychologist, writer, educator, political consultant and HR manager that has taken him to such cities as Portland, Washington, D.C., New York and London. "I've been volunteering at shelters in most cities I live in."
That love of all creatures great and small inspired him to create the Elliot Weiner '65 Scholarship for Service to Animal Welfare at FSU. Applicants must provide a brief statement of how they have demonstrated experience with any aspects of animal welfare such as proper housing, management and handling, nutrition, disease prevention and treatment, and humane euthanasia through agencies, shelters, rescues or veterinarians.
It's definitely not just tongue-wagging from the obedient volunteer. Weiner was presented with a prestigious George H.W. Bush Points of Light Award in 2018 for his dedicated volunteerism and education efforts. When speaking of the honor, Weiner swiftly shifts the spotlight back to his furry friends.
"Bottom line, we animal volunteers speak for them, since they can't — and so many people don't listen when they try," he said. "It's up to us to represent, care and protect. I'm not talking only about dogs or shelter animals. There are so many wonderful animal-passionate people who protect and serve in vet offices, wildlife areas, their own homes."
Growing up, Weiner called Silver Spring, Maryland, home, where he set his sights on attending Duke University and a career as an architect. When his father told him he would have to stay "in state," Weiner decided to attend Frostburg, after spending time on the Western Maryland campus during a high school leadership retreat. "I loved it up there. It was beautiful."
Weiner continued his leadership skills on the Frostburg State campus, serving as vice president of the Student Government Association and a member of Tau Kappa Epsilon fraternity. Since architecture was not a major at the time, Weiner joined the teaching program and studied Psychology and English and minored in Theatre. Post Frostburg and a doctorate in Psychology from Purdue University, Weiner penned several self-help books, including "The Mind Test," "The Brain Game," "The Love Exam" and "The Ostrich Complex," long before bookstores were filled with such content.
From there, he taught at the college level and earned a senior fellow to serve as an "expert in mental health" on Capitol Hill during the Clinton administration. When the political tide in D.C. turned, Weiner shifted to human resources and joined the team at Microsoft as a recruitment manager and brought his expert writing skills to the development of the cable channel MSNBC.
Throughout every adventure, Weiner maintained his special connection to animals, especially those at risk. He created the agency Protective Adoptable Labs (PALS) to raise funds for medical care for animals and has a part-time business as a fear-free certified professional animal trainer. His email signature carries the tagline: "Wag more. Bark less."
Weiner has retired to Asheville, N.C., where he currently volunteers at the city's Humane Society. He uses his psychology background daily in evaluating abused and neglected animals to get them proper training, socialization, care and forever homes.
"It's so much easier to train animals than people. They don't play games like people do," Weiner joked with an afterthought. "[Volunteers] get more out of it than the animals actually do."
He's hoping the FSU scholarship will inspire others in their own communities to volunteer and share in his passion for animals.
"I'm just one of many, but with so many more needed," he added. "Even one scholarship may help a little."
To make your own planned gift to Frostburg State University, contact Liz Nelson, Planned Giving officer, at [email protected] or 301-687-3163.