Grateful Spirit and Successful Career Add Up to a Lasting Gift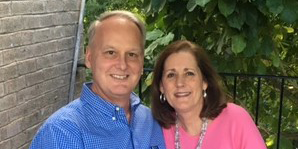 When Kurt Pfluger '80 started at Frostburg State College, the Accounting Department and major were fairly new. But the young man, who had a knack for numbers, chose a path in life that added up to a successful career and the ability to fondly give back to his alma mater.
"I remember the great professors and taking classes at the historical Old Main building where the Accounting Department was housed," Pfluger said, recalling the early days and support he received at Frostburg. "Accounting was a new major and there were limited students so you could always talk with the professors, if needed."
Pfluger received a strong foundation and enough guidance to pass the CPA exam right out of college and enter the world of public accounting at Soza & Company, Ltd. There, he met his wife, Bonny, and the two were married in 1983. Together, they have now created the Pfluger Family Accounting Scholarship at FSU, a fund for first-semester transfer students majoring in Accounting with demonstrated financial need.
Even though Pfluger did not attend college on scholarship, he grew up one of five children and knows the importance of assistance for struggling families. "My parents somehow managed to get us all through college with no scholarships. However, a scholarship would have been a big help to our family."
Post Frostburg, Pfluger rose through the ranks at Soza & Company eventually becoming Chief Financial Officer before the company was sold in 2003. He then consulted for small and medium-sized businesses until retiring in 2018. He and Bonny raised two sons and lived in Northern Virginia before settling on Kent Island.
In addition to the "snow and cold weather," he warmly recounted the fun times with friends at Frostburg. That spirit and gratitude inspired Pfluger and Bonny to give back to his alma mater.
"FSU was very good to me and provided a strong foundation from which I was able to build a successful career. I felt that would make a perfect match for our desire to make a donation," he said. "We wanted to do something that was impactful and long lasting. A scholarship fund took care of both of them."
Pfluger remains active at Frostburg, having served on the FSU Foundation Board. He was also named FSU College of Business Alumnus of the Year in 2017. Pfluger encourages his fellow alumni to share in his spirit of gratitude and find their own ways of showing appreciation for the school that gave them their starts.
"If you are able to do so and feel that FSU was good for you and your career -- a scholarship or legacy fund is a good way to say thank you. It will be meaningful and rewarding to you and will be of great help to FSU and the students."
To make your own planned gift to Frostburg State University contact Liz Nelson, Planned Giving officer, at [email protected] or 301-687-3163.